Camille Marquand BA Hons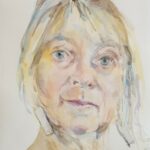 I love living in Greece but before this, I lived in Edinburgh, Scotland for seven years  where I had a studio in a collective with other artists (WASPS). I also had government sponsorship from the Small Business Scheme in Edinburgh. Since then, my work has been shown in many galleries in different regions of the UK.  I have had several solo shows and have taken part in many group exhibitions. My work is in private and public collections and I have carried out many private commissions. I paint in oil on canvas or in watercolour or mixed media on paper.  My style is semi- abstract and full of colour. I paint objects, feelings, ideas, thoughts and landscapes in an individual way. Themes that continue to interest me while living in Greece for the last nineteen years are the landscape, above and below ground; creatures and environment under threat and communication between people.
Ονομάζομαι Camille Marquand, είμαι ζωγράφος και ζω στην Ελλάδα. Πριν έρθω στην Ελλάδα ζούσα στο Εδιμβούργο/Σκωτία όπου διατηρούσα στούντιο μαζί με άλλους ζωγράφους. Τα έργα μου εκτέθηκαν σε πολλές γκαλερί σε διαφορες πόλεις της Μεγάλης Βρετανίας. Έκανα αρκετές εκθέσεις σόλο, η πιο πρόσφατα στην Κρήτη τον Ιούλιο 2022 και πήρα μέρος σε ομαδικές εκθέσεις στην Αθήνα και στην Θεσσαλονίκη.
Ζωγραφίζω με λάδι σε καμβά, με ακουαρέλες ή 'mixed media'. Το στυλ μου είναι αφηρημένο και γεμάτο χρώμα. Απεικονίζω αντικείμενα, συναισθήματα, ιδέες, σκέψεις και τοπία με αφηρημένο αλλά συγκεκριμένο τρόπο. Θέματα που με ενδιαφέρουν πολύ είναι, το τοπίο που βρίσκεται σε κίνδυνο καθώς και η επικοινωνία μεταξύ των ανθρώπων όπως αυτή εμπνέεται από την αρχαία ελληνική κεραμική τέχνη.
Έχω εκτελέσει πολλές ατομικές παραγγελίες εκ των οποίων οι 2 τελευταίες ήταν ένα διπλό πορτραίτο ενός νεαρού ζευγαριού και ένα ελληνικό χειμωνιάτικο τοπίο.
Τα έργα μου βρίσκονται σε δημόσιες και ιδιωτικές συλλογές στη Μεγάλη Βρετανία, Αμερική και Ελλάδα.
Career path
Self-taught in practice and educated in modern art theory through the Open University (BA Hons 1992) I have been free to navigate my own development. This has led from a lot of figurative drawing and painting into exploring abstraction and finally creating my own unique contemporary 'voice'. I have undertaken many commissions, taken part in many group shows, and had several solo shows, the most recent in July 2022 in W Crete. Despite Covid, my work was in 3 online exhibitions and three group shows that pluckily opened in Athens in July 2020/21. Since then my work has been in online exhibitions with The Holy Art and in physical exhibitions in several Athens galleries and Myro Gallery in Thessaloniki, Greece. I also have work in private and public collections.
Private commissions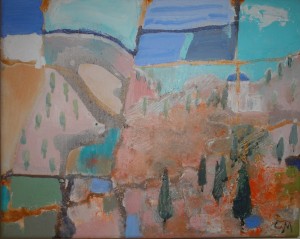 I have been carrying out private commissions since 1985, at first creating painted 'board figures' and firescreens, then portraits and other subjects.  The Plus Restaurant in Elgin, Scotland commissioned 5 abstract paintings.  (see below and Gallery/ Abstracts)  Another recent example is that of a 'Greek Winter Landscape' 2007 (see left and  Gallery/ Abstract Landscapes)
Work in Collections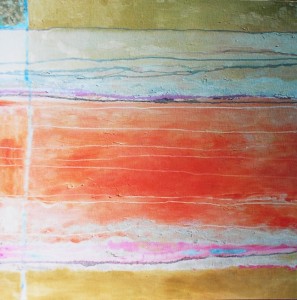 British Midland at Edinburgh Airport
The Bonham Hotel, Edinburgh
The Three Chimneys Hotel, Isle of Skye
The Plus Restaurant, Elgin, UK
The House of Commons, UK. It is now on the BBC Your Paintings website:
http://www.bbc.co.uk/arts/yourpaintings/paintings/river-ouse-towards-skeldersgate-bridge-york-214065